R350 SRD Grant: No Need To Go To The Post Office, Here's A New Payment Method
R350 SRD Grant
R350 SRD Grant New Payment Method
Good news for SASSA  R350 Grant beneficiaries: You can start changing the payment method from 3 August to 9 August 2020. The service will be open 24 hours a day. For the sake of focusing on the payment of normal grants, Covid-19 Social Relief of Distress Grant beneficiaries is requested by SASSA not to go to the Post Office during the first seven days of the month. This is to avoid long queues when funds are available, the beneficiaries will receive an SMS notification.
For everything to go well, beneficiaries are advised to make sure that your information captured is correct. Always ensure that the bank account is in your name. If you don't update your information during the window period then your grant will be sent through to the Post Office.
The South African Social Security Agency (SASSA) has been working endlessly to make sure that the R350 grant beneficiaries are satisfied.
A few weeks ago, people were complaining about SASSA's ability to make payments on time. However, the good news is that all has changed as more and more people are getting their R350 grants.
The process of getting the R350 grant has now been made a lot easier. The SASSA Beneficiaries can now choose how they want to get the payment. You can choose the payment method that best suits you.See the info below: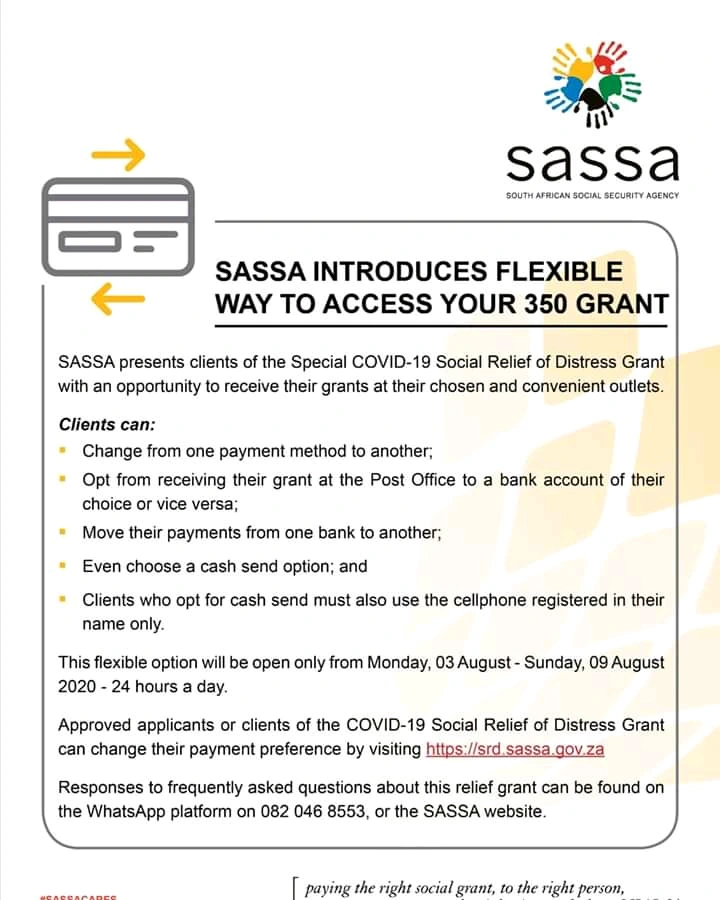 As we've all seen, at some point, beneficiaries experienced some challenges at the Post Office. Most of them had to probably wait in long queues where there was no social distancing. Sometimes.some of them would be sent back home when funds run out.
SASSA has noted all these challenges and has finally made some improvements.
If you are an approved applicant, you can update the channel through which payment should be made. This new way of accessing the grant is definitely the best for beneficiaries.
You can start changing the payment method from 3 August to 9 August 2020. This will be open 24 hours a day.